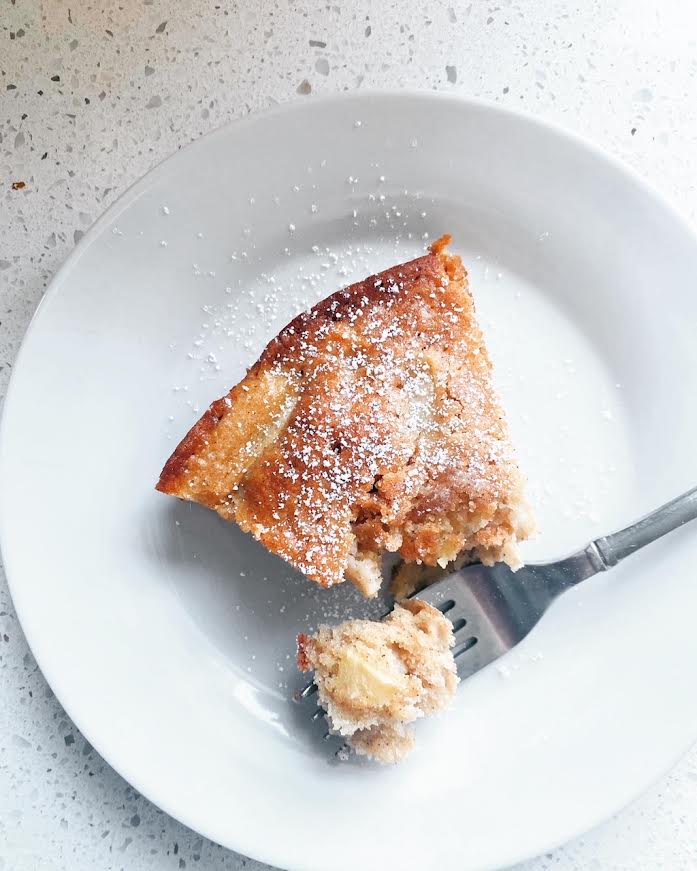 Fresh, locally grown apples are hard to beat this time of year. The farmers markets are loaded with a variety of them – each one unique in taste, texture and color. Typically for baking you want to go with a more tart apple like Ida Red or Granny Smith, but any variety will work here. Serve this cake for breakfast or dessert. I like mine dusted with a little powdered sugar, but you could also top it with salted caramel or fresh whipped cream for the perfect fall treat!
Preheat oven to 350. Coat the bottom and sides of an 8″ or 9″ round cake pan with 1 tablespoon room temperature coconut oil. Line the bottom with a circle of parchment paper and coat the parchment paper with the remaining teaspoon of coconut oil. Set aside.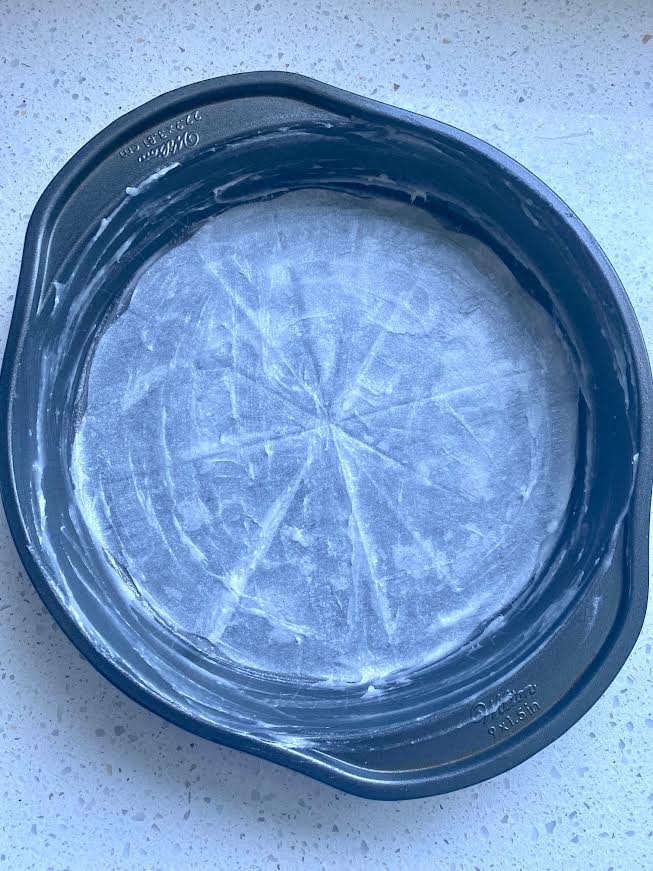 2. In a medium bowl, combine flour, baking powder and salt.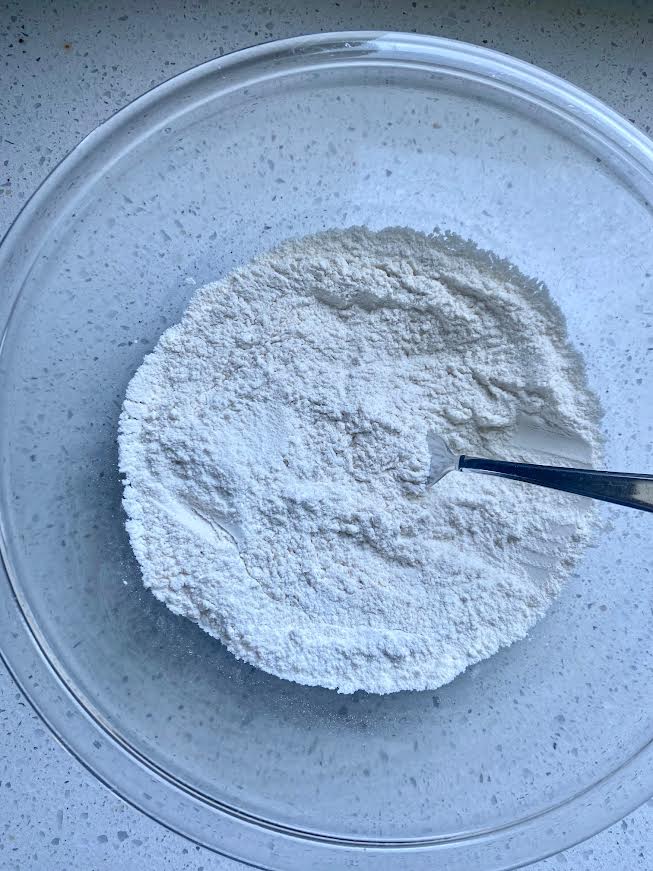 3. In a separate bowl, whisk the melted coconut oil, eggs, brown sugar, cinnamon and vanilla. Add the dry ingredients to the wet ingredients and stir to combine. Add apples and stir again until the apples are coated.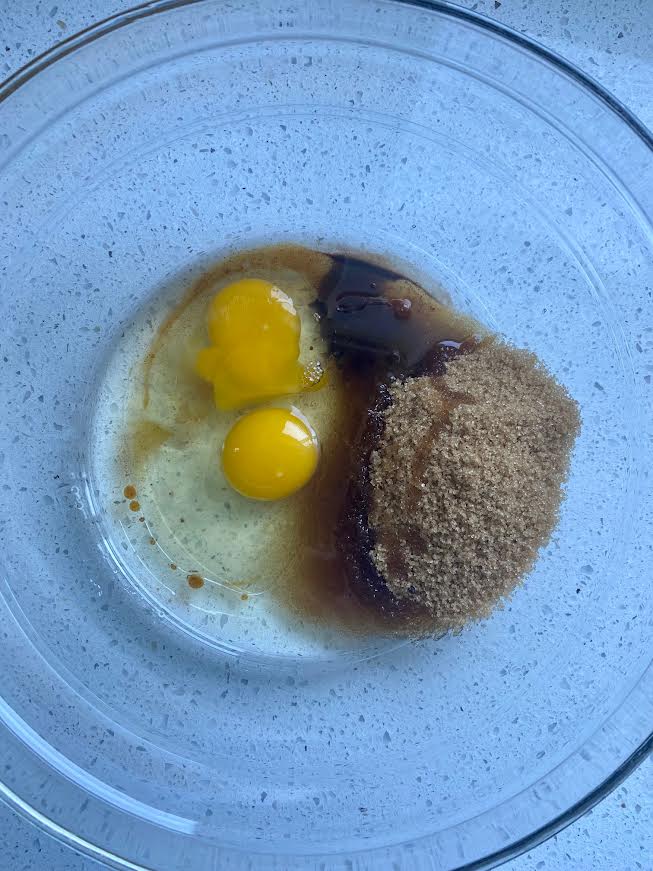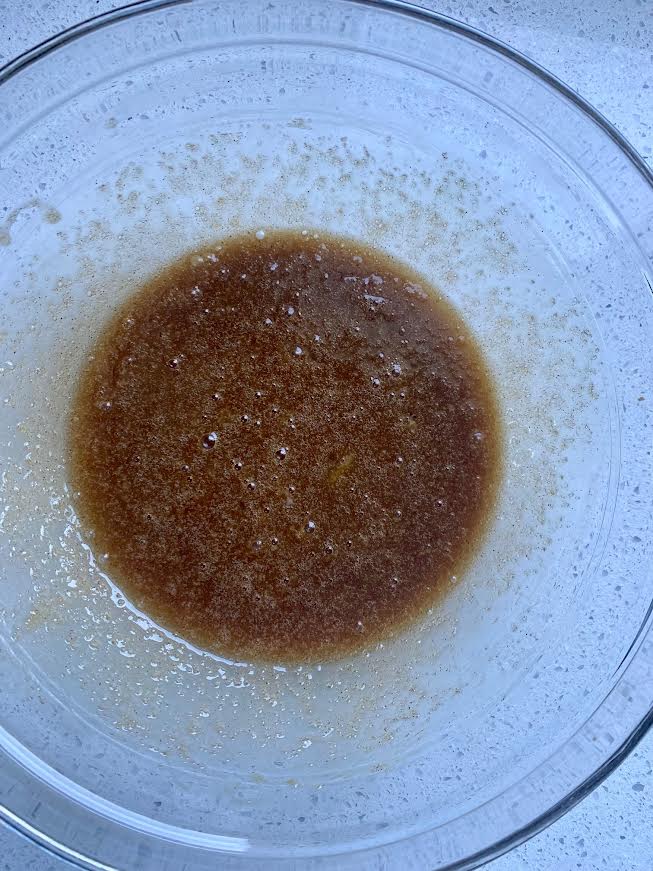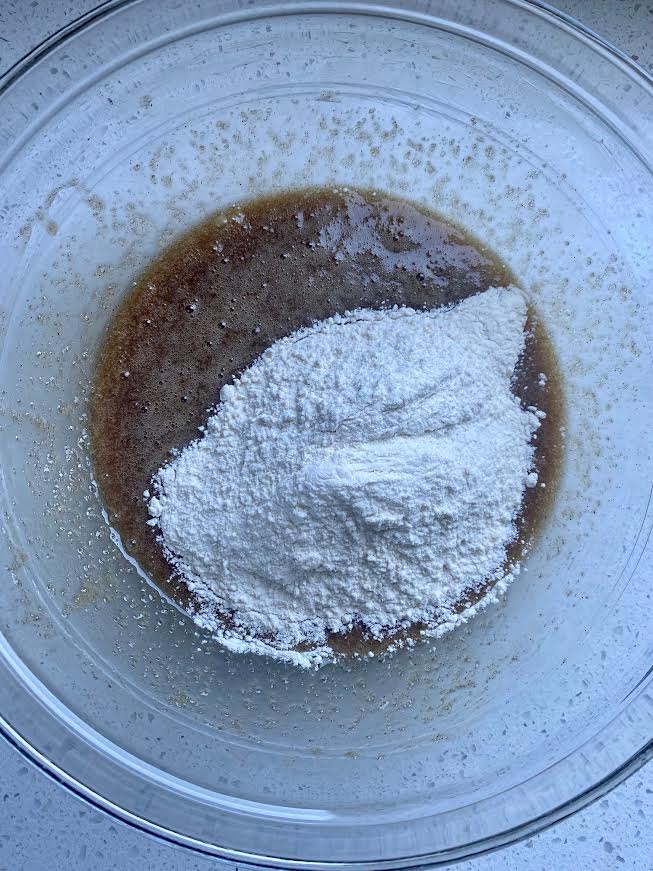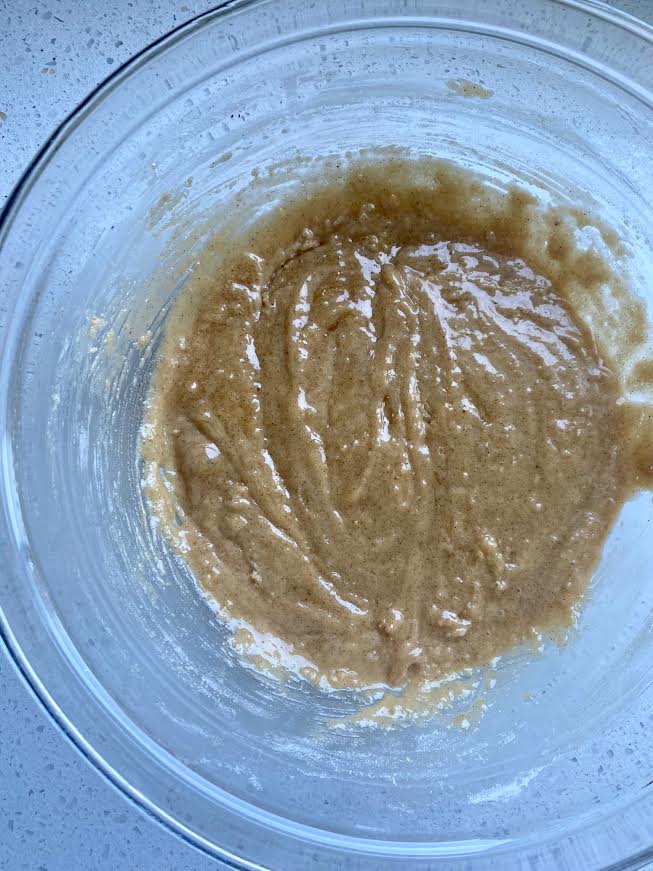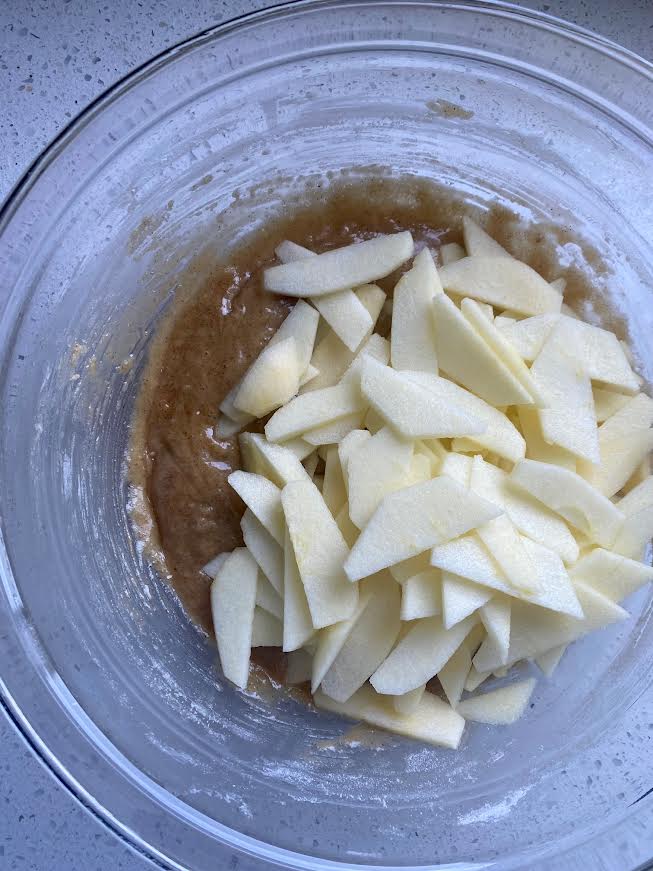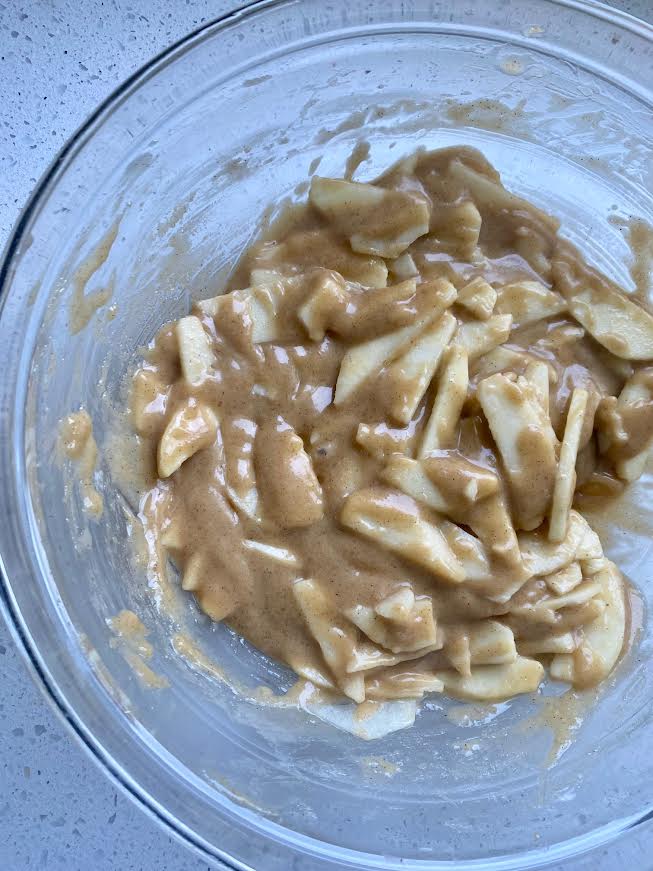 4. Transfer the batter to the prepared cake pan and bake for 40 minutes, or until a toothpick inserted in the middle of the cake comes out clean. Let the cake cool on a wire rack for 10 minutes; carefully remove it from the pan (it should pop right out) and continue to cool on the wire rack. Cut into pieces and enjoy! (This can be stored at room temperature for up to 3 days; once it's completely cooled place the cake in an airtight container or cover with plastic wrap.)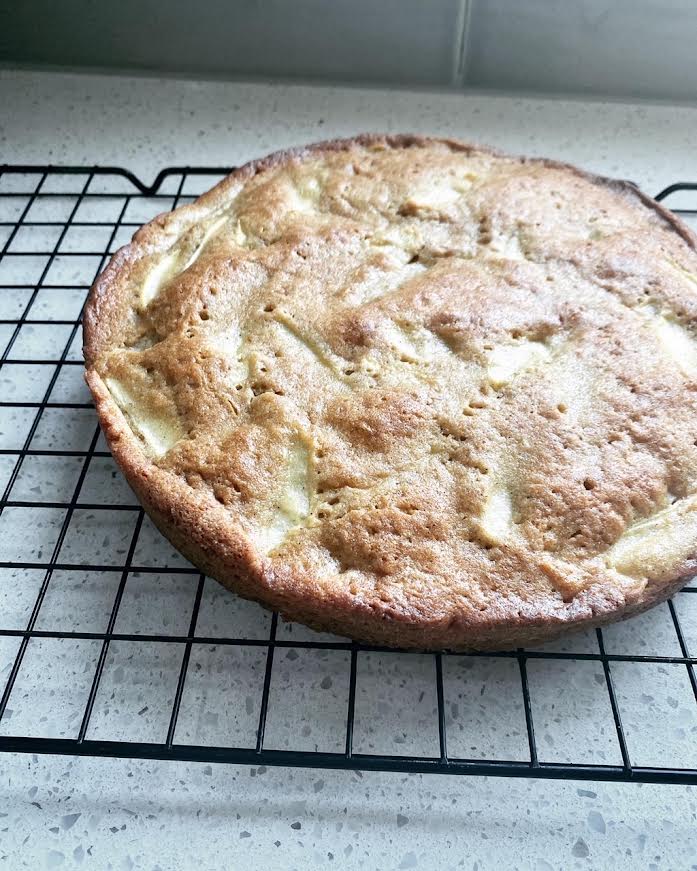 Apple Cake
Serves 8
All you need:
For the pan –
1 tablespoon + 1 teaspoon room temperature coconut oil
Parchment paper
Cake –
1 cup all-purpose flour (regular or gluten-free)
1 teaspoon baking powder
1/2 teaspoon salt
6 tablespoons coconut oil, melted
2 eggs
3/4 cup brown sugar
1/2 teaspoon ground cinnamon
1/2 teaspoon pure vanilla extract
3 apples, peeled and sliced
All you do:
Preheat oven to 350. Coat the bottom and sides of an 8″ or 9″ round cake pan with 1 tablespoon room temperature coconut oil. Line the bottom with a circle of parchment paper and coat the parchment paper with the remaining teaspoon of coconut oil. Set aside.
In a medium bowl, combine flour, baking powder and salt.
In a separate bowl, whisk the melted coconut oil, eggs, brown sugar, cinnamon and vanilla. Add the dry ingredients to the wet ingredients and stir to combine. Add apples and stir again until the apples are coated.
Transfer the batter to the prepared cake pan and bake for 40 minutes, or until a toothpick inserted in the middle of the cake comes out clean. Let the cake cool on a wire rack for 10 minutes; carefully remove it from the pan (it should pop right out) and continue to cool on the wire rack. Cut into pieces and enjoy! (This can be stored at room temperature for up to 3 days; once it's completely cooled place the cake in an airtight container or cover with plastic wrap.)